Tring Industrial Estate Icknield Way (unit 8)
HP234JX Hertfordshire
44 (0)1442 821700 - info@stokvistapes.co.uk

Independent Manufacturing & Distribution Partner!
Global Reach, Act locally!
Customer-Centric Innovation!
Solutions & Services

We are your solution-driven innovative partner for Pressure-Sensitive Adhesive & Component Solutions.
Stokvis Tapes brings unique focus to the specific markets we serve as a converter, contract manufacturer and global logistics partner for adhesive and flexible materials. That focus, Continuous Partner Involvement, and the broad, deep engineering and technology experience behind them, deliver value-added solutions tailored to cost, quality, complexity, compliance and reliability to meet each customer challenge.
Products

- Adhesive Tapes (1-sided/2-sided)
- Foams (PE, PUR, EPDM, …)
- Felts
- Fleeces/Non-Wovens
- Multi-Layer Laminates
- Every other flexible material
  solution you can imagine in a roll,
  sheet or converted part!
Typical applications

- Acoustic Solutions
- Bonding & Fixing Solutions
- Insulation Solutions
- Protection Solutions
- Sealing Solutions
- Shielding Solutions
- Thermal Management Solutions
Services

- Die cutting
- Laminating
- Slitting & Re-wind Slitting
- Printing
- Thermoforming
- Ultrasonic Welding / Heat welding
- Cleanroom processing
- Prototyping
- Private label
Continuous Partner Involvement


From concept and materials selection, to design and prototyping, to production and global logistics support, our Continuous Partner Involvement process can bring eight decades of materials and engineering expertise anywhere in the customer's process.



Make an appointment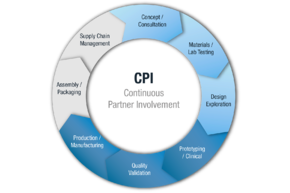 About Stokvis Tapes
15

Manufacturing Sites

17

Sales Offices

5 

Cleanrooms

3 

Laboratories
True Partnership for Innovation
Relentless focus in specific markets translates to deep understanding of specific demands and needs as well as cross-market innovation, so engineering and technical teams can partner with you to get to market faster with products optimized in the effective ways.